SEWAGE SYSTEM O&M 570-924-4696

Operation & Maintenance ("O&M") Inspectors for Wastewater Treatment Systems
On-Site Sewage Systems: Residential, Commercial, Large-Flow, Community
Inspection, Maintenance, Monitoring & Reporting
Licensed Operators of Wastewater Treatment Facilities

Manufacturer trained & authorized to service

:
American Manufacturing Company "PercRite" drip dispersal systems
Puraflo and EcoFlo peat biofilter systems
Jet and Norweco aerobic treatment units (ATU's)

---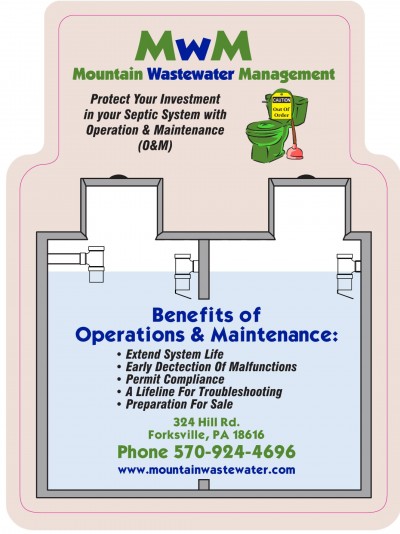 Pennsylvania Home Improvement
Contractor Number PA 015468
Why wouldn't you want to protect your investment in your sophisticated wastewater treatment system? We maintain cars, and furnaces, appliances, and swimming pools to prevent disasters.
Why not sewage systems

?
Your real estate value may depend on this!