Sewage System Planning & Testing
---
Don't settle for an elevated sand mound bed, simply because the SEO established a suitable site. There are many design options in Pennsylvania. We can help you to consider all conventional and alternate system types as well as placement options. Starting your project with a consulting soil scientist could eliminate the need to pay SEO and excavator fees twice.
DOWNLOAD OUR GRAPHIC OF SEPTIC SYSTEM CHOICES IN PENNSYLVANIA !
We specialize in creative placement and "shoe-horn fit" designs for septic systems!
We do not give up!
Preliminary soil mapping, ahead of your Sewage Enforcement Officer (SEO) visit
Official test pit documentation with your SEO and/or DEP
Staking, locating, and plotting each proposed absorption area (labeled stakes, laser level & taping, GPS survey, permanent buried steel at corners for future reference)
Percolation testing, if required
Soil morphological assessment reports for alternate system types such as drip dispersal, and shallow limiting zone systems
Permeability testing, hydrogeological studies for larger systems
Small Flow Treatment Facility Permits (stream discharge)
---
ONE-LOT RESIDENTIAL SYSTEMS
COMMERCIAL SYSTEMS
High BOD (biological oxygen demand) such as food establishments.
Large flows, & multiple uses.
COMMUNITY SYSTEMS
Decentralized wastewater treatment (off the "big Pipe" sewer) – Beneficial for regional groundwater recharge.
Subdivisions & Land Development:
THE LAND DEVELOPMENT TRAIN
PLANNING MODULES:
Components 1 and 2 for Subdivision and Land Development
Component 3s Small Flow Treatment Facility
We "coach" municipal officials to process your permit application or planning module within


SEWAGE SYSTEM DESIGNS
---
We design all conventional and alternate sewage system types allowed in Pennsylvania.
Our design plans meet engineering standards. Our plans are colorful, user-friendly, technically complete, to-scale, and include top and side view profiles, derived from real field stake-outs.
REPAIRS: For qualified repair sites that do not fit all of the Chapter 73 rules, we apply "Technical Decision-Making" (TDM) and "Best Technical Guidance" (BTG) protocols to design "Site-Specific" and "Experimental" systems. When sufficient suitable soils cannot be found to provide a solution, we can pursue a permit for a Small Flow Treatment Facility (stream discharge). On rare occasion, lots can be prepared for future sewage systems using our "controlled soil fill" program, under the supervision of a Certified Professional Soil Scientist.
We offer construction oversight. Following construction, we offer operation, maintenance, monitoring, and reporting through our Mountain Wastewater Management division.
Do not be persuaded to dump soil on a failed site for a 4-year wait!!
Talk to us first!

SEWAGE SYSTEM O&M
---

Pennsylvania Home Improvement
Contractor Number PA 015468
Operation & Maintenance ("O&M") Inspectors on Wasterwater Treatment Systems.
On-Site Sewage Systems: Residential, Commercial, Large-Flow, Community.
Inspection, Maintenance, Monitoring & Reporting.
Licensed Operators of Wastewater Treatment Facilities.

Why wouldn't you want to protect your investment in your sophisticated wastewater treatment system? We maintain cars, and furnaces, appliances, and swimming pools to prevent disasters.
Why not sewage systems?
Your real estate value may depend on this!
Manufacturer trained & authorized to service:
American Manufacturing Company "PercRite" drip dispersal systems.
Puraflo and EcoFlo peat biofilter systems
Jet and Norweco aerobic treatment units (ATU's)
Aquaworx timers (Used with Eljen Systems)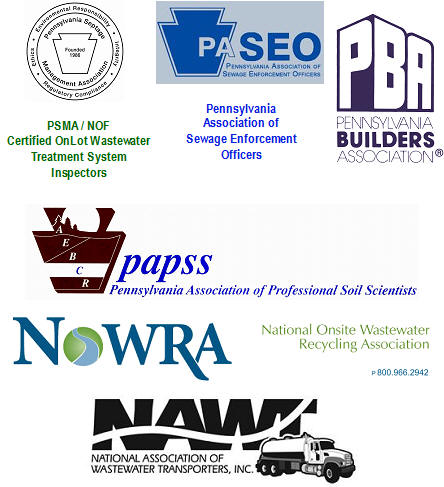 GEOLOGICAL AND HYDROGEOLOGIC SERVICES
---
Noncoal Mining Permits and General Permits – we provide geological, hydrogeological, and environmental investigation and documentation, with oversight by a mining engineer.
Permits for Land application of Biosolids
Carbonate (limestone) geology investigations for land development
Interpretation of landscapes and aerial photographs for karst topography (limestone sinkholes and depressions)
Subsurface investigation for sinkholes, depressions, and fractures
Hydrogeologic investigations for community or large volume sewage disposal systems, including groundwater mounding, nitrate plume analysis, hydraulic conductivity
Groundwater monitoring programs, monitoring well installations, boring logs, water sampling and lab analysis.
Groundwater and surface water quality and quantity assessments.